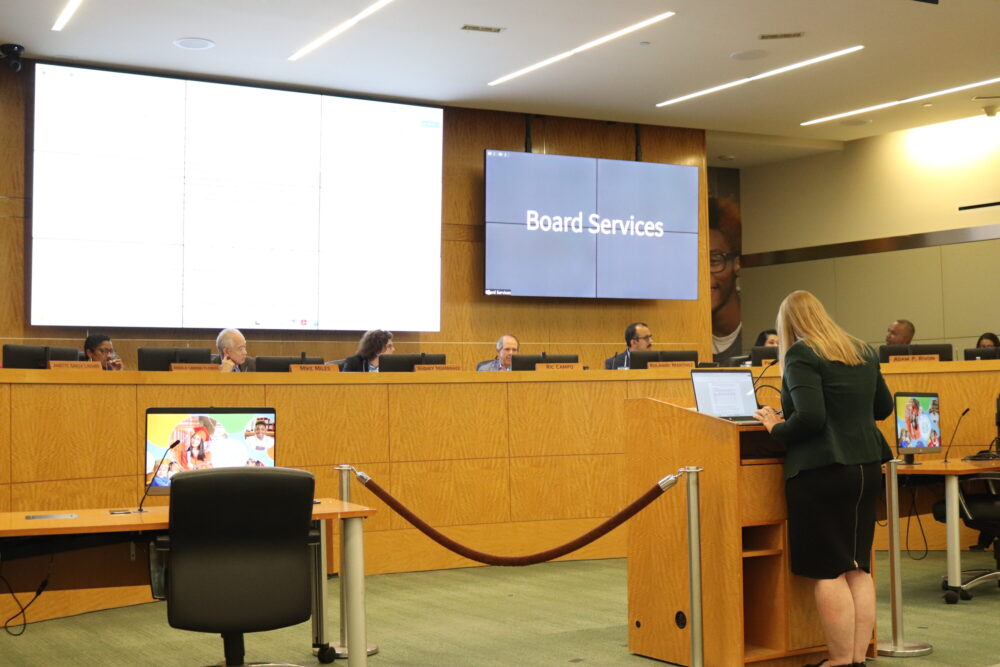 HISD's state-appointed board of managers has been considering long-term student goals for the district and adopted a new set of goals and constraints earlier this month. Meanwhile, they're fighting an uphill battle for public trust, as many question whether an unelected board can truly be accountable to the community. While the elected board and board of managers use the same governance model on paper, they have different philosophies when it comes to how best to implement it.
When the appointed board of managers held community engagement meetings throughout the month of September, attendees had a lot to say about their priorities for the district, with concerns including budgetary and safety matters, curriculum and equitable distribution of resources.
"Dual language remains my primary concern," said Brooke Longoria, an HISD mom from the Heights who attended multiple meetings. "Thirty-seven percent of the district are emergent bilingual students. This has to be a top priority for our city."
Amanda Hermosillo, a parent who attended the meeting at TH Rogers School in west Houston, said she fears the district is putting too strong an emphasis on testing.
"I think they should prioritize the whole child rather than just focusing on just STAAR, math, science and reading," said Hermosillo.
Jamie Russo is a first grade teacher at Mandarin Immersion Magnet School, and she criticized how widespread the changes have been under the new administration – including for schools like hers, outside state-appointed Superintendent Mike Miles' New Education System reform program, or NES. Schools across the district are implementing new practices; for example, teachers are expected to implement one of eight types of "multiple response strategies" within their lessons every four minutes.
"We were told that this NES/NES-A wasn't going to affect us," said Russo. "I'm a teacher, and it is affecting us."
The board of managers took the feedback they collected to a meeting Oct. 19, where they talked about long-term goals for the district; however, their discussion was very broad, focusing on what an HISD graduate should look like, rather than day-to-day school operation.
The discussion mimicked the questions attendees were asked to answer via an online survey at September's meetings. Parents were asked a few big-picture questions, including:
Looking into the future, how should we be able to describe a graduate of HISD?
What should be the district's priorities for what students should be able to know or do to be successful?
What should HISD avoid or stop doing as it focuses on accomplishing these priorities?
The board had several broad takeaways.
"People want our students to be productive, successful, competitive," said Ric Campo, one of the appointed board members. "And then there's attributes they want to see, which are critical thinking, problem-solving."
The board of managers says it's focused on student outcomes, and the superintendent is solely responsible for what happens each day in school.
For example, in the board of managers meeting on Oct. 19, some of the board members asked questions about the curriculum, but state-appointed superintendent Mike Miles redirected the conversation.
"Really, in the goal-setting process, we set the goals. You let me worry about the 'how,'" said Miles.
This is in accordance with the board's interpretation of the state's Lone Star Governance framework for governing school districts, which is the same general framework used by the elected board. However, several members of the elected board of trustees interpreted Lone Star Governance differently. Kathy Blueford Daniels, the elected trustee from northeast Houston who was replaced by the board of managers in June, believes district leadership can focus on long-term outcomes while also handling the day-to-day concerns of particular communities – like whether children have a safe way to get to school, or if they need breakfast before class.
"Those are questions that the board in general should have been addressing for the whole child," said Daniels.
While trustees are elected to represent particular parts of the district, the members of the board of managers were each appointed to oversee the district at large. Blueford Daniels believes leaders should be embedded throughout the communities in Houston. Meanwhile, the vast majority of HISD's new managers live west of downtown.
"People don't understand it because they're not out here," said Blueford Daniels. "They don't understand the challenges the children have."
Other elected trustees, like Judith Cruz and Sue Deigaard, instead emphasize monthly student outcomes and superintendent evaluations, in addition to board self-evaluations, as key to accountability.
"They should be monitoring the outcomes of those goals every single month," said Cruz. "That is, to me, one of the most critical pieces because you're holding the superintendent accountable, but you're also letting the public know 'How are our students actually doing?'"
For now, the appointed-leaders are pursuing ambitious goals – in the long run. Before the end of this decade, Mike Miles and the appointed school board want to see a 15-point improvement in the percentage of third graders who perform on grade level in standardized math and reading tests.
"Fifteen percent growth over five years is something no other large urban district has done," said Miles.
The proposed plan also calls for a significant narrowing in the achievement gap between Black and Latino students and their white peers – cutting the 40-point gap almost in half by 2028. But, Miles says, all of that will take some time because of the significant disruptions in schools facing reforms.
"Let's not discount how tough it is to build the right culture and raise the quality of instruction," said Miles.
In the short term, the new goals are less ambitious. In the first year, the board expects a 1-1.5 percent improvement in the number of students scoring at grade level in reading and math.