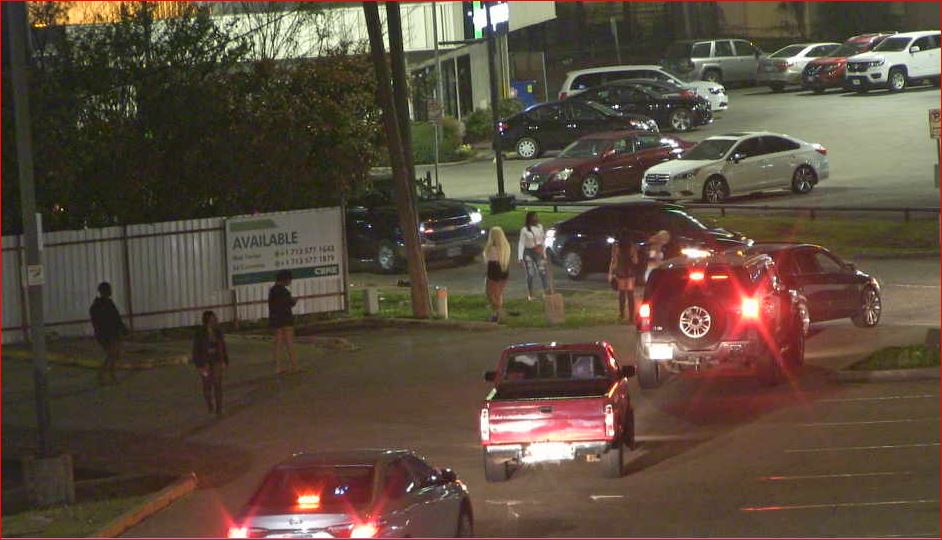 A stretch of Bissonnet Street in Southwest Houston, long known as a hub for prostitution and human trafficking, is now off limits to motorists late at night and early in the morning.
The Houston Police Department last week began blockading the area known as the Bissonnet Track, with officers putting up barricades between 10 p.m. and 5 a.m. on a daily basis, according to HPD spokesperson Shay Awosiyan. He said the barricades are being placed at Bissonnet's intersections with Centre Parkway as well as Plainfield Street a few blocks to the east.
"It's a corridor that has been plagued with prostitution and criminal activity for years," said Houston City Council member Edward Pollard, who represents the area as part of District J. "The residents don't deserve it, the business owners don't deserve it, the people who attend church in the area don't deserve it, and HPD is taking proactive steps to shut down those streets at night to try to curb the behavior. I stand behind them in their efforts."
Awosiyan said the idea came from patrol officers in HPD's Westside division, which has a continuous presence on that part of Bissonnet, and has had an immediate impact as a crime deterrent in an area where more than 300 arrests have been made so far this year. The barricades block only vehicle traffic and not pedestrians, he said, although they've resulted in less foot traffic on that part of the street.
The blocked-off stretch of Bissonnet includes a collection of businesses, from restaurants to pawn shops to gas stations to auto-related businesses. Awosiyan said they've been "very supportive," with some even offering to block off their parking lots as part of the effort.
Pollard said most of those businesses operate only during the daytime and that he hasn't heard of any "real pushback" to HPD's strategy, adding that stakeholders in the area have long asked for solutions to the prostitution problem. It began in the 1990s and has "gotten worse and worse," according to Pollard.
"So far they've told us they're pleased with the plan," Awosiyan said Tuesday. "From what we've seen so far, it's had a dramatic reduction in the amount of foot traffic on Bissonnet."
The initiative is being funded through the use of overtime hours among HPD staff, according to Awosiyan, who said there is not an exact timeline at this point for how long that part of Bissonnet will be blockaded.
"It's going to be looked at how can we sustain it and move forward positively in targeting this issue in a very unique way, instead of making arrests," Awosiyan said. "This is community policing where you can target an issue in an environmental way."
Pollard said he hopes the initiative continues for the "foreseeable future." He also said it should be part of a more comprehensive, holistic approach involving local, state and federal leaders as well as community stakeholders.
The prostitution on that part of Bissonnet, between the Southwest Freeway and Beltway 8 to the west, also comes with human trafficking, drug activity and gang activity, Pollard said.
"It's not a good reflection of the city and not a good reflection of my office," he said. "We don't want to be known for being cavalier as it pertains to these serious matters that are so visible and vivid for the community to see. So by blocking off those streets and putting up those barricades, it will hinder people from going down some of these side streets to do this illegal activity."