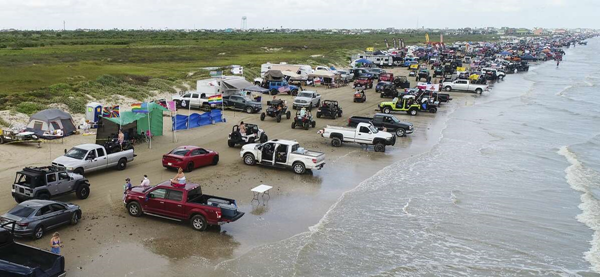 Two people remained hospitalized in critical condition Monday after a weekend of alcohol-fueled, engine-roaring revelry along the Texas Gulf Coast, according to authorities in Galveston County.
An estimated crowd of 80,000 gathered Saturday along Crystal Beach for what locals refer to as "Go Topless Jeep Weekend," which began Thursday and lasted through Sunday on Bolivar Peninsula, according to Maj. Ray Nolen of the Galveston County Sheriff's Office. He said a total of 234 arrests had been made as of 2 p.m. Sunday, with at least 30 of them related to driving under the influence of alcohol or drugs.
Nolen said both drivers involved in the incidents in which people were seriously injured – a woman fell from a vehicle on Friday and a man walking along State Highway 87 was struck by a vehicle Saturday night – were arrested for allegedly driving while intoxicated. Both the man and woman were air-lifted to nearby hospitals and remained in critical condition as of Monday morning, according to Nolen, who said the weekend also included two shootings and an armed robbery.
"It really tests the limits of our resources," Nolen said. "Our beach is almost 30 miles long, and this probably takes place in a 5- or 6-mile region of the Crystal Beach area. Just from one end to the other, it's just a huge party."
The annual event started within the last decade as a way for Jeep enthusiasts in the Houston area to show off their vehicles while cruising along the beach, according to Nolen, who said the original organizers distanced themselves a few years ago because the get-together had grown to the point where it took on a life of its own. Authorities do not have a point of contact for the event, Nolen said, and doubled their police presence this year in anticipation of large crowds.
A total of 36 two-officer units were deployed Saturday by the Galveston County Sheriff's Office, which utilized 136 deputies in all and was supported by 28 troopers from the Texas Department of Public Safety and four constables, among other government agencies, according to Nolen. He said 13 of the 234 arrests made were for felony offenses, and a total of 283 criminal charges were filed.
A little fewer than 200 criminal charges were filed related to last year's Jeep Weekend, when 175 arrests were made and a sheriff's deputy was seriously injured after being struck by the driver of a car, Nolen said.
"I think it was because we had more law enforcement," Nolen said of the uptick in arrests this year. "I'm touting this as a successful event with our three-month-long planning and preparation to get ready for this."
Nolen said police are still investigating the Friday incident in which the woman was critically injured to try to determine if she fell or was thrown from the vehicle. Also under investigation is a Friday armed robbery in which no one has been arrested, Nolen said.
A total of three people were struck by bullets during two separate shooting incidents, according to Nolen, who said none of the three sustained life-threatening injuries.
The two people were who critically injured were among seven who were air-lifted to hospitals over the weekend, according to Nolen, who said another 30 or so people were transported to hospitals by ground.
Nolen said many residents of Bolivar Peninsula, which is just northeast of Galveston Island, have become "fed up" with the annual Jeep Weekend as it has grown and evolved to include pickup trucks, four-wheelers, golf carts and other vehicles with open-air components. Police cannot curb the size of the crowds since the event is held on a public beach, Nolen said, so authorities try to prepare for the days-long party and manage it as best as they can.
"This is a lot of social media advertising from one partygoer to the next," Nolen said. "They talk about, 'If you want to go to the beach and have a good time and be rowdy, then come on this weekend.' And they come."